Fashion
Sarees in India – Captivating Ethnic Wear
Captivating Ethnic Wear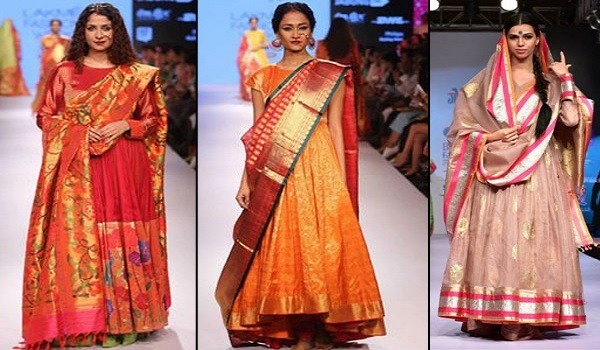 VERVE OODLES
In India, net saree dates to the pre-Mughal era when powerful court ladies wore them. Lace, which many people sometimes refer to as a type of net, was created in England in the Victorian era and introduced to India by the colonial authorities. Today, tulle, bobbinet, fishnet, and other types of net fabrics are available.
FOR EVERY OCCASION, A NET SAREE
Choose a net saree in navy blue and beige with elaborate embroidery for an after-work celebration of your promotion. For extra glam, don't forget to wear it with gold chandelier earrings and a glossy maroon lip. Attending a house-warming celebration? Bring out the net saree with orange and golden embellishments. Wear it with complementary jewelers and a chic bun in your hair.
Net saree is fashionable and stylish and raise the level of elegance and appeal of the outfit. It is incredibly comfy, lightweight, simple to wear and accessories. Net saree gives the traditional weaving a modern twist and give the garment a delicate feel. These sarees are widely worn on the red carpet by trend-setters and celebrities alike. Net saree can be worn for any occasion and come in a wide range of patterns and styles. To achieve a stunning look, wear a lehenga saree or a heavy netted embroidery saree to a wedding. Net saree can be accessorized with bejeweled handbags and oxidised jewelry for casual occasions like parties or get-togethers. This flimsy ethnic clothing is a traditional summertime choice as well.
RESPLENDENT SILK SAREE
If the "saree" is regarded as India's national attire, the silk saree is unquestionably its finest creation. Women have spent many hours choosing the most gorgeous silk sarees to add to their collection of ever-expanding sarees since the dawn of time. You could wear a different silk saree every day of the year and perhaps a few more after that if you travelled to every region of India! Indian silk saree is so famous and diverse that foreign royalty often receives them as gifts when they visit. The styles and procedures used to make silk saree has changed over time while yet retaining the traditional practices.
SILK SAREE IN VOGUE
Few best silk sarees from all around the nation that capture your heart is as follows:
MIMOSA's GREY ART SILK WOVEN DESIGN KANJIVARAM SAREE
Kanchipuram, in Tamil Nadu, where this silk saree is manufactured, is whence they got their name. They are renowned for their lavish color schemes and wide borders. They are ideal for religious events or out in the town.
VARKALA SILK SAREES' BLUE JACQUARD PAITHANI ART TRADITIONAL SAREE
The Peshwas, Mughals, and Nizams of Hyderabad all adored the silk saree, which have been produced for more than 2000 years. This saree features gold zari embroidery all over and is accompanied by a blouse.
WOVEN DESIGN BANARASI SAREE IN WHITE AND GREEN, BY ARADHYA
The zari or gold and silver brocade and fine stitching on Banarasi silk saree determines their price. These sarees are shown on special occasions and have kalga and jhallar designs that are believed to be Mughal in inspiration.
BHAGALPURI TUSSAR SILK TRADITIONAL SAREE, BY ISHIN, IN YELLOW CHECK
This silk saree, famed for their light weight, durability, and subdued luster, originate in Bhagalpur, Bihar. This saree's border and pallu feature red and grey checks that together create a stylish pattern that can be worn both during the day and at nighttime events.
CHENNAI SILKS' GREEN AND GOLD-TONED JUTE SILK WOVEN-DESIGN BALUCHARI SAREE
The Baluchar village in Murshidabad, West Bengal, is the place where these conventional silk saree is made. They provide a distinctive texture when used with jute and are lightweight and simple to handle.
SEERAT'S PINK AND ORANGE EMBROIDERED ART SILK SAREE
This silk saree makes us think of a garden at dusk. The border in red and zari contrast, along with the blouse, boost the design.
KVSFAB's "RED Georgette and Silk Saree"
This saree perfectly captures the exuberant vitality and youthful purity. The soft fabric is expertly balanced with the striking red body, delicately woven zari border with the lotus motif, and an embroidered blouse.