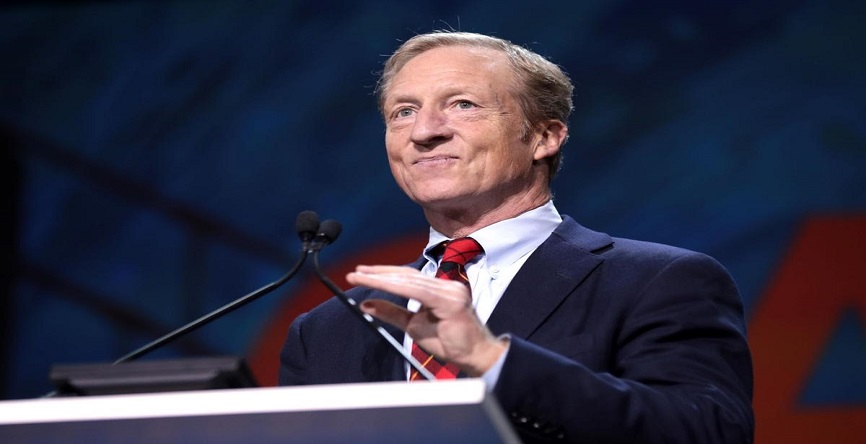 Tom Steyer is a billionaire and a good person from the United States. Steyer ran for president as a Democrat in 2020. He is known for his work on environmental issues and liberal politics.
Who is Tom Steyer?
Tom Steyer is a billionaire from the United States. He made his money as an investor in California hedge funds. Steyer left the financial world in 2012 to focus on politics and fight climate change. The next year, he started a nonprofit called NextGen America, which works for progressive solutions in climate, healthcare, education, and immigration.
Read Also: aydin maxwell
How did Steyer Gain Attention from the People?
Steyer started getting attention from people all over the country in 2017 when he started his "Need to Impeach" campaign against President Donald Trump. In July 2019, he said he was running for president in 2020. He dropped out of the race in February 2020.
Do You Know How Tom Steyer Does in School?
He was born in New York City on June 27, 1957. His mom was a teacher, and his dad was a partner at the law firm Sullivan & Cromwell. Steyer has two brothers. Jim Steyer is a lawyer and professor at Stanford University. He also started Common Sense Media, is one of Steyer's brothers.
How Did Steyer Spend His Youth?
Steyer was born into a wealthy family and went to a good boarding school, Phillips Exeter Academy, and then Yale University, where he studied economics and political science. He went to Stanford Business School to get more education, and later in life, he served on the board of trustees (2007-2017).
How Tom Steyer Begin His Career?
Steyer began his career in 1979 at Morgan Stanley. He then moved to Goldman Sachs as an associate in the risk arbitrage division of mergers and acquisitions. After joining the private equity firm Hellman & Friedman in San Francisco as a partner, Steyer started the hedge fund Farallon Capital in 1986 and ran it for the next 26 years.
How did Steyer Start the hedge fund?
Tom Steyer was one of the first people to start a hedge fund. He had a strong network of financial connections thanks to his father's well-known law firm in New York City and his wife's family's banking connections. After he started Farallon Capital, he became known for helping institutions, foundations, and wealthy people make smart, safe investments. After running Farallon for more than 20 years, Steyer quit the company to focus on politics and the environment.
What is Climate Justice?
Steyer additionally pushed for more grounded worldwide coalitions around here. He did this by using his Next Gen America organization to fund and promote Democratic candidates with bold climate change plans. His $2.3 trillion plan included calling climate change a national emergency on his first day in office, rejoining the Paris Climate Accords, making millions of green jobs, and protecting low-income communities (which are affected first and foremost by climate change).
What is Steyer Political Opinion?
Steyer told Vogue, "We can't keep putting up with the Republican Party and the president lying to us". "All things considered, environmental change involves decency. Also, health care, lowering taxes, immigration, etc. This government lets corporations dump dangerous waste in the poorest areas, where people have the least political power to stop it. This isn't some theoretical issue that only rich people care about. It's just what needs to happen."
Why Steyer Did not Support Medicare?
Steyer did not support "Medicare for All", even though he thought health care was a basic right. Instead, he suggested adding more people to the insurance pool through a public option.
Live Interview on Fox News:
Steyer asked Fox News on Cavuto Live, "I don't think we need to change everything in society to lower the cost of healthcare for everyone and make sure that every American has a right to affordable healthcare." "I think a public option is the best way to do it because it doesn't turn everything upside down and gives Americans a choice."
Money for Campaign:
Steyer said that if he were president, he would propose reorganizing the Federal Election Committee and fight to overturn the controversial Citizens United decision by the Supreme Court. He would do this to stop corporations from having too much power in politics.
Why Steyer was in Favour of Raising Taxes?
Steyer said that he was in favour of raising taxes on wealthy Americans, but he didn't say how much. He also pushed for getting rid of the tax cuts that the Republicans gave to corporations and the rich.
Tom said: "We require to make sure we do not live in an unbalanced, unfair society where the richest Americans take advantage of everyone else."
Who is Tom Steyer's Wife?
In 1986, Steyer got married to Kathryn Taylor, who had degrees from both Harvard and Stanford. The couple lives in San Francisco with their four kids, Sam, Charles, Evelyn, and Henry.
What Do You Know about Steyer Company?
In 2006, Steyer and his wife started a company called OneRoof, Inc. This company helps small communities in Mexico and India get access to the Internet and learn job skills. The next year, they started the Beneficial State Bank to help people and small businesses in the San Francisco area who didn't have enough help.
Why does Tom Steyer Donate Money?
Steyer and Taylor have given a lot of money to their old schools, Yale and Stanford, to help fund new ways to use energy. The couple also owns a cattle grazing operation near San Francisco that cares about the environment and is used to test ways to reduce greenhouse gas emissions in the farming industry.
What is the Giving Pledge?
The couple's strong sense of philanthropy and civic duty led them to sign Bill Gates and Warren Buffet's "Giving Pledge" in 2010. This pledge says that they will spend most of their vast wealth on charitable causes.